UMTv2 / UMT Pro
UltimateMTK v3.2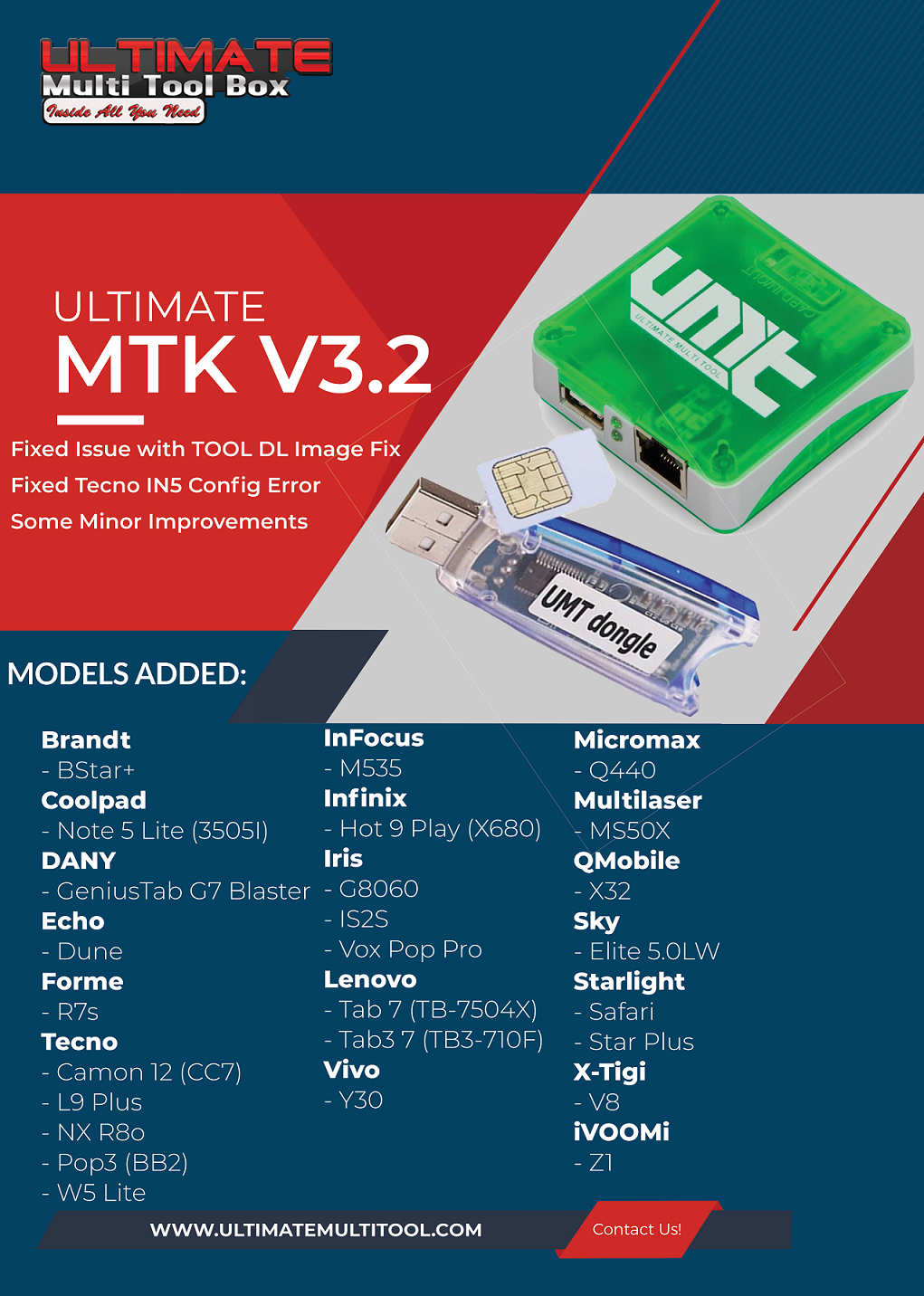 Supported functions:
- Read Info
- Reset FRP (For devices supporting this feature)
- Reset Locks (All Android Versions, Encrypted Userdata NOT Supported)
- Read Pattern (Android 5.x and earlier, Encrypted Userdata NOT Supported)
- Format FS
- Format FS (Advance)
- IMEI Repair in META / Boot Mode
- Backup NVRAM
- Restore NVRAM
- Reboot to META / FACTORY / FASTBOOT Mode
- Added Support for Helio CPU (MT6750, MT6755, MT6763, MT6739 etc)
- Disable Lock / Restore Lock for Encrypted Userdata
- Remove Lcoks for Encrypted Userdata for Vivo
- Factory Reset in META Mode (Vivo, Oppo and others)
- SafeFormat Option to let device format itself safely in recovery
- Added Support for Helio X20 (MT6797)
Added:
Brandt
- BStar+
Coolpad
- Note 5 Lite (3505I)
DANY
- GeniusTab G7 Blaster
Echo
- Dune
Forme
- R7s
InFocus
- M535
Infinix
- Hot 9 Play (X680)
Iris
- G8060
- IS2S
- Vox Pop Pro
iVOOMi
- Z1
Lenovo
- Tab 7 (TB-7504X)
- Tab3 7 (TB3-710F)
Micromax
- Q440
Multilaser
- MS50X
QMobile
- X32
Sky
- Elite 5.0LW
Starlight
- Safari
- Star Plus
Tecno
- Camon 12 (CC7)
- L9 Plus
- NX R8o
- Pop3 (BB2)
- W5 Lite
Vivo
- Y30
X-Tigi
- V8
Fixed Issue with TOOL DL Image Fix

Fixed Tecno IN5 Config Error

Fixed Connection Error citing Driver Issue

Some Minor Improvements
Special thanks to:
- Gsm-Ahmedr
- GsmKotlar
- Unlockinfor
- UnlockwithCoder
- akeel2000r
- amjadnonar
- bruno santanar
- djj007r
- fokal2008r
- kk3r
- yogesha123
Important
- Features introduced may work on other devices too, which are not litsed here.
- User needs to untick By Model checkbox to be able to select Platform manually.
- For manual work, just select Platform and DA.
- For new secured devices, you may need to select AUTH and/or Preloader.
- Rest operations will work same.
Note : Some features are device/OS specific and may not work on all devices.
WARNING :
ESN / MEID / IMEI REPAIR IS INTENDED TO REPAIR ESN / MEID / IMEI TO ORIGINAL ONE WRITTEN ON PHONE BACK LABEL / BOX. WE DO NOT ENDORSE OR ENCOURAGE ESN / MEID / IMEI CHANGING. ITS ILLEGAL. USER IS SOLE RESPONSIBLE FOR ANY ILLEGAL ACTIVITY DONE WITH USE OF FEATURES PROVIDED IN OUR SOFTWARE, NOT LIMITED TO ESN / MEID / IMEI.
ANY USER USING OUR SOFTWARE FOR ILLEGAL PURPOSE WILL BE SOLE RESPONSIBLE FOR HIS ACTS.
WE CONDEMN USE OF OUR SOFTWARE FOR ANY ILLEGAL PURPOSE.
Download using Support Access or Mirrors
Official Website